Download Photos
11th Entrepreneur Day opens tomorrow
Innovations on display; heavyweight speakers share insights
15 May 2019 – The 11th HKTDC Entrepreneur Day (E-Day), organised by the Hong Kong Trade Development Council (HKTDC), opens tomorrow and runs for two days (16 and 17 May) at the Hong Kong Convention and Exhibition Centre (HKCEC). A media tour was held today to announce highlights of the fair, showcasing a range of innovative products and services. They included Kiwi Campus's food delivery robot, Kiwibot; Sentronic International Limited's real-time parking information app, PickPark; Kalon Couture's 3D body scan mobile application for e-consumers; HOMEY's augmented and virtual reality (AR/VR) platform for instant interior designs; Sweet Stories' French cuisine designed specifically for the elderly and hospital patients; and Recruit AI Studio's artificial intelligence (AI) and big data technologies for recruitment.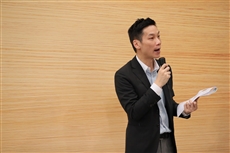 Eddie Lee, Senior Product Promotion Manager at the HKTDC, introduces highlights of the 11th HKTDC Entrepreneur Day. Running on 16 and 17 May, the event showcases innovative start-up products and technologies as well as the various resources available to start-ups looking to explore new business opportunities, seek professional advice, and reach out to potential investors and business partners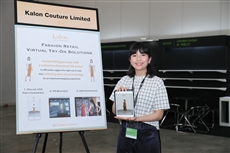 Tobey Wai, Vice-President, Marketing & Communications of Kalon Couture Limited, shows media representatives how her company's latest product "transforms" smartphones into a 3D body scanner enabling customers to try on clothes virtually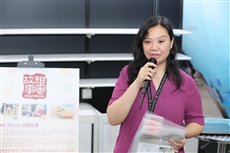 Sweet Stories Limited Founder Amy Cheng shares her experience in the research and development of new ingredients and recipes that enable the elderly and hospital patients to enjoy the great tastes of French cuisine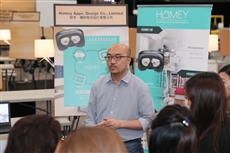 HOMEY's cross-platform digital platform brings "disruption" to the interior design industry by leveraging augmented reality (AR) and virtual reality (VR) technology to create an immersive interior design experience. The start-up's founder, Ricky Chan (right), introduces the platform at today's press briefing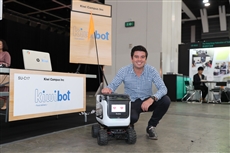 One of the speakers at Entrepreneur Day's plenary session, Sergio Pachón, Co-founder & COO of Kiwi Campus Inc, introduces the start-up's autonomous delivery product
This year's E-Day exhibition will feature more than 280 exhibitors and their innovative products and technologies, with the Imaginarium zone spotlighting local start-ups that offer real-life applications in the areas of healthtech, biotech, fintech, greentech, AR, VR and AI.
More than 40 entrepreneurs from different industries will discuss technology trends and business opportunities, including AI, the Internet of Things (IoT), fintech, smart city development, healthtech and edtech, in a series of seminars at the "Start-up Runway", one of the event's highlights. Renowned experts will also echo on this year's theme to share their inspiration as entrepreneurs and their secrets behind transforming from start-ups into larger-scale enterprises.
The speaker line-up for this year includes: Jordan Fung, 16-year-old Founder & CEO of Pedosa Group; Sergio Pachón, Co-founder & COO of Kiwi Campus Inc; Jack Zhang, Co-founder and CEO of Airwallex; Andy Chan, Founder and Executive Director of Qupital Limited; Jason Zheng, Co-founder & CEO of HelloToby; Walden Lam, Co-founder & Chief Hustler of Unspun; Joe Mak, Founder and CEO of ANIWEAR Company Limited; Justin Lai, Regional Manager (Hong Kong) of Wantedly, Inc; Fred Ngan, Co-founder & Co-CEO of Bowtie Life Insurance Company Limited; Tim Lee, Founder & CEO of QFPay Group; Abraham Lam, Director & CEO of MEGA Automation Limited and more.
Details of other key E-day events are as follows:
Opening and Plenary Session — "E-Living: Create from Living"

Date: 16 May (Thursday)

Time: 11:15am-1pm

Venue: The Assembly, Hall 1E

Guest of Honour: Jason Chiu, Vice-chairman, Hong Kong Startup Council

Start-up Express – Pitching Final

Date: 17 May (Friday)

Time: 2:30pm-5pm

Venue: The Pitchathon Spot, Hall 1D

Judging panel: Duncan Chiu, Co-founder and Managing Director of Radiant Venture Capital; Jason Chiu, CEO of Cherrypicks; Jimmy Tao, Managing Director and CEO of Vitargent International Holdings Limited; Prof Guanhua Chen, Co-founder of Hong Kong X Tech Startup Platform

Remarks: 20 start-ups will pitch their business ideas and innovations to judges at the Pitching Final. The 10 winning start-ups will be entitled to opportunities ranging from joining various trade promotion activities to building their networks, marketing their business and attracting potential investment.
Media enquiries
For any media interview requests regarding E-day and its events and speakers, please contact:
Ruder Finn Asia:

HKTDC Communications and Public Affairs:

Angel Tang

Tel: (852) 2584 4544

Email: angel.hc.tang@hktdc.org
About the HKTDC
The Hong Kong Trade Development Council (HKTDC) is a statutory body established in 1966 to promote, assist and develop Hong Kong's trade. With 50 offices globally, including 13 in Mainland China, the HKTDC promotes Hong Kong as a two-way global investment and business hub. The HKTDC organises international exhibitions, conferences and business missions to create business opportunities for companies, particularly SMEs, in the mainland and international markets. The HKTDC also provides up-to-date market insights and product information via trade publications, research reports and digital news channels. For more information, please visit: www.hktdc.com/aboutus.